Super7 is a great store run by great individuals. Originally a Japanese toy collecting magazine started by current headman, Brian Flynn, Mark Nagata, and Mark Miyake, Super7 has blossomed into a vinyl-collecting force of nature in the US and other English-speaking countries.
Mason--with his new-found lust for vinyl--and I spent quite a bit of time hanging out at their booth during Comicon. Surprisingly, I didn't buy much from them. It took a LOT of self-control...believe me! They had a total of FIVE (5) different variants of the giant-sized (15") Marmit Mechagodzilla I (1974). Sure...I coulda spent a grand at the show just on Mechagodzilla vinyls...but I figured diversifying my purchases was the way to go! Amazingly, I managed not to buy a *single* MG at the show.
When we got to the store in SF, of course, it was another story! ;)
Anyway, at Comicon, Super7 was constantly mobbed, so it was tough to get clear shots of the goodies they were offering. There seemed to be a perpetual line of customers waiting to be rung up! One table by the cash register had current and back issues of the magazine itself, while an adjacent table had tons of cool t-shirts they were selling. The designs were gorgeous! Next to this table was a series of display cases where show exclusive vinyl toys were shown. The cases were big, but even then, they had to rotate what was shown daily to make room for the new exclusives announced each day!
Behind the display cases were the shelves...where the magic happened! They had lots of lickable vinyl that people could help themselves to. Tons of "art" or "designer" vinyls from Secret Base, RealxHead, Darkside Hero Toys, Skull Toys and a bunch of other design houses I don't know much about! Even Gargamel toys were represented! They of course had plenty of character toys from more familiar players like Marmit, M1, and Marusan.
Big toys are killer! Fewture Garada K7s stood guard (one on either side of the shelves) alongside some comparatively-small "giant" Mechagodzillas, Hedorahs (Hedorae?), giant-sized Marusan Goji's, M1 Garamons, and plenty of other giant vinyls!
One of the guys was nice enough to take out and pose a couple of the show exclusive Tim Biskup-sprayed giant Mechagodzillas. These things were gorgeous to behold! Each one was hand-sprayed by Tim, so each is subtly unique:
Pink version.
Blue version.
At the show, I was lucky enough to pick up the tranlucent blue "Bruised Chaos Fighter" exclusive by RealxHead (thanks again for the hook-up, Brian!) and Mason snatched up a giant Pilot Ace lucky bag Godzilla and Minya. Oh, and you'll hear all about everything we bought at the actual store in my separate San Francisco trip report!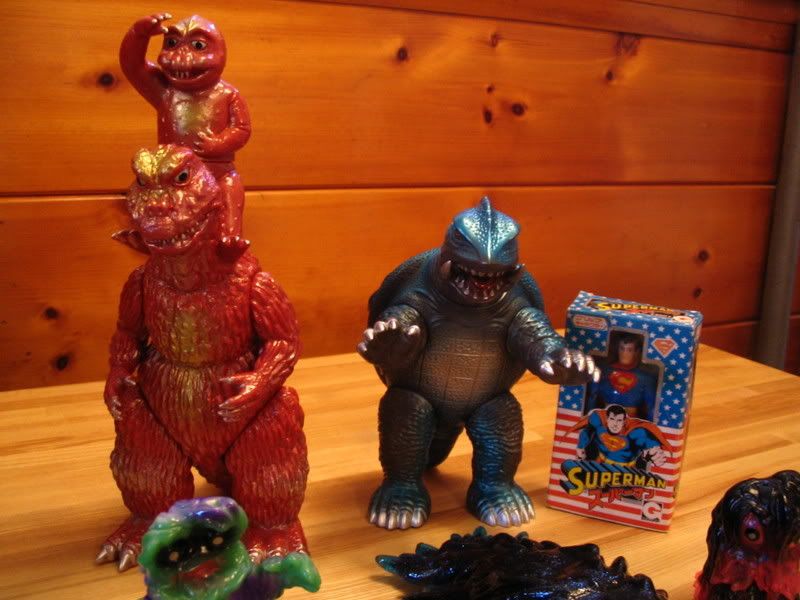 Mason's Pilot Ace Goji/Minya...that Gamera and Grip Superman were picked up from other dealers at the show.
Like I said, the guys were fun to hang out with. Mason and I got a chance to chat it up with Brian, both at the booth throughout the show...and on Saturday night at the San Diego beach where there was booze, bonfires, and arm-wrestling with Gargamel and Kaiju Big Battel! It was a great time!
I'll save the details of our time spent at the Super7 store and with Brian for my San Francisco report. Stay tuned!
Just like Garada, we're HUGE Super7 fans!