Crain Brain
Review by JoshB
Woo Hoo! Another Go Bots review! This time it's Crain Brain - one of the earlier releases in the line. In Japan he was known as MR-24 Crane Robo. The toy made it to the US unchanged from it's original Machine Robo counterpart, minus a CRANE ROBOT sticker on the crane arm.
In vehicle mode the toy resembles a Unic K-200B Crane truck. It's got a diecast metal front end and a portion of the rear is also metal. The vehicle sports 6 moveable plastic wheels, and a fully articulated and extending crane.
I wonder though if mine isn't a later reissue because the hook on my crane is unpainted, whereas most specimens are painted chrome. It could be a manufacturing error, or the hook could have been replaced by a knockoff hook by a previous owner.
The underside has all the relevant copyright markings, but it's worth noting that it's stamped Bandai and not Popy. Bandai absorbed Popy in 1983, so this must have been released after the changeover.
Robot mode is interesting because it omits the crane gimmick altogether. At least, thats how it was in Gobots. Machine Robo had different ideas: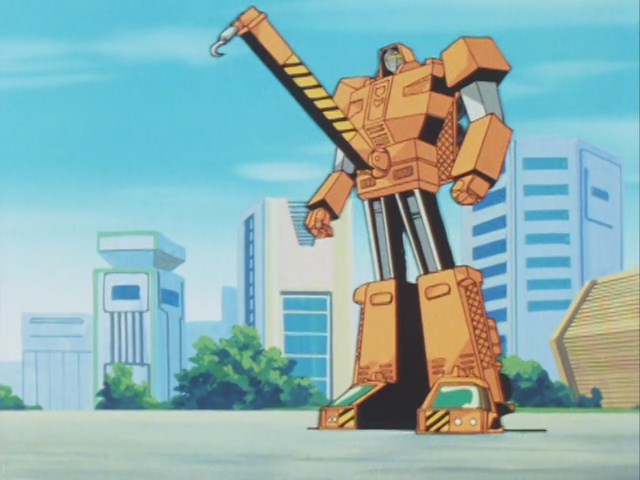 Image courtesy Machine Robo Wikia
Seriously though I've only seen this one image like this - the toy is never depicted that way.
The toy is sold looking, but I noticed it tilts a little backward due to the feet never fully becoming perpendicular to the body. This specimen has chrome wear on the legs, which is frequent in loose samples.
CRANE CROTCH! ACTIVATE!